The 56th edition of the performance series Wonderwerp presents a  program investigating the relationship between the body and space through site-specific interventions, electronic costumes, self-made instruments and bodily movement. The program is curated by Wen Chin Fu, who has invited artists active in the fields of visual arts, dance and music to present new collaborative projects especially tailored to the space of Studio Loos. During the evening the audience will observe the outcome of these experiments and will be a subject of experimentation itself.
Ludmila Rodrigues, Deflection Gate
Antonin Comestaz, Kim-Jose Bode, and Wen Chin Fu, Imitation = Limitation
Yamila Rios & Mei Yi Lee, REBOLT-I
Thursday 27th of November 2014 – Doors open at 20:00, starts at 20:30
Studio Loos, De Constant Rebequeplein 20B, Den Haag
Artist bios:
Ludmila Rodrigues is an artist with a degree in Architecture who creates spaces, situations and devices to choreograph the public. Originally from Rio de Janeiro, she  moved to The Hague to study at the ArtScience Interfaculty, where she initiated a research on the body of the audience. Her work searches for strategies to activate the audience through playful multi-sensory experiences.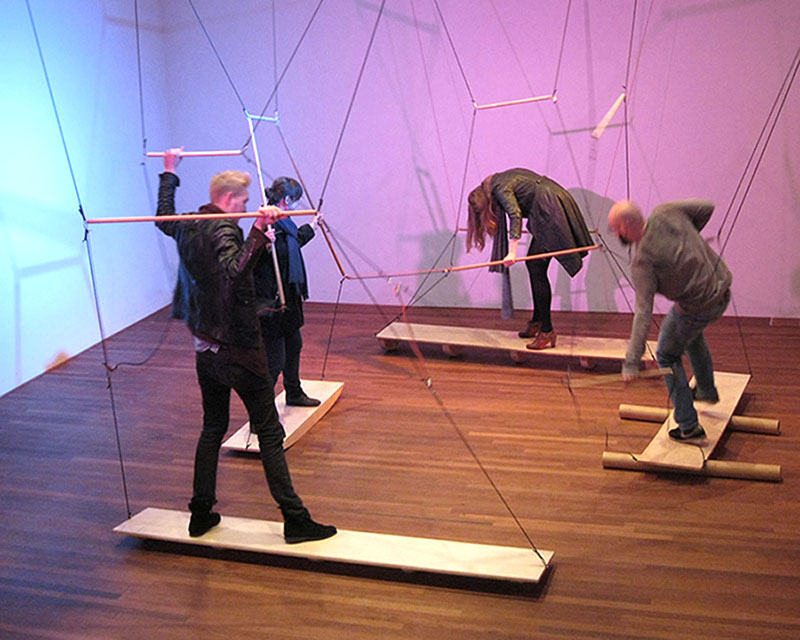 Kim-Jose Bode is a composer/musician. Her musical and performance abilities and interests are greatly varied and she enjoys to create and present innovative concert programs and music-theater performances. She also composes and coach for dance and music-theater works and many composers have written for her and her ensembles. Kim-José is known for her "expressiveness, virtuosity and special warm sound" (WN 2007/DE). Kim-José is founding member of the ensemble aXolot Synergy – a company active in the fields of music, music-theater, visual art and dance.
Antonin Comestaz (1980) is a French dancer, choreographer and versatile artist based in The Hague (NL). He trained at the Ballet School of Paris Opera and pursued a dance career with companies including Paris Opera, The Hamburg Ballet, T.T.M (Tanz Theater München), Ballet Mainz and Scapino Ballet. He has worked with renowned choreographers John Neumeier, Marco Goecke, Rui Horta, Carolin Carlson, Ed Wubbe, and Jacopo Godani among others.
Antonin's work has won a number of awards including 1st prize for interpretation, 3rd prize choreography and audience prize at the Stuttgart Internationales Solo-Tanz-Theater Festival. He has a passion for film, drawing and music and composes for most of his works to date. Antonin works mainly as an independent choreographer focusing on humor, surrealism, and poetry as core elements of his work.
Wen Chin Fu graduated in 2006 from the Classical Music Department of Shih Chien University, Taipei , and continued her studies at the ArtScience interfaculty of The Hague, where she graduated in 2010. Her performances explore the relationship between physical movement, sound and the environment. A key element of her practice is concentration, which opens the senses for perceiving things through new perspectives.
Yamila Rios is a Spanish composer, performer and sound artist based in The Netherlands. Her artistic practice deals with the creation of aural spaces. These ephemeral spaces are neither fixed nor constant, allowing them to unfold and change in time. Her pieces consist of multiple textures and masses of sounds, each of them with their own internal complexity.
Mei Yi Lee is a percussionist and performer based in the Netherlands. She is interested in experimental music, dance, theatre, visual and performance art. Her repertoire includes Alvin Lucier, John Cage, Iannis Xenakis, Kaija Saariaho, David Lang, Louis Andriessen, Roger Reynolds, Franco Donatoni, Cort Lippe, Hugo Morales Murguia, Ji Youn Kang and other contemporary composers. Presently she is a member of SonoLab and iOFloat and she has performed for different ensembles such as Slagwerk Den Haag and Asko|Schoenberg Ensemble.
About the Wonderwerp series
Wonderwerp is a monthly performance series presenting radical artistic practices that engage with sound, image, space and the body:  imagining new tools to articulate everyday phenomena, extending the body, remapping sense perceptions, hacking and reinventing existing media and codes, creating time and space for events which find their preferred storage medium in the memory of participants.
About Studio Loos
Studio LOOS is the hot spot for new music in The Hague (NL), and is located in the multidisciplinary arts building DCR. It is a workspace, laboratory and a public presentation space for artistic research, experimentation, development, innovation and production of interdisciplinary, experimental, electro acoustic music, sound art, improvisation, composition ranging from monomedia via bimedia to polymedia and hypermedia. Studio LOOS also houses the LOOS Foundation, which brings together internationally renowned and yet unknown artists in the field of interdisciplinary new music, who use the space to conduct their research during residencies and rehearsals and present the results of their experiments and their newest work to the public. The LOOS Foundation is supported by the Municipality of The Hague.